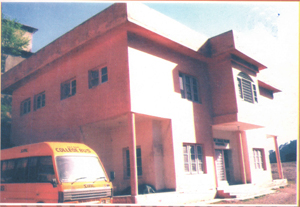 The Govt. Degree College Dharmai was established in the year 2008 and the class work started in the month of June only. The foundation stone of the college was laid by Jenab Ghulam Nabi Azad, then Hon'ble Minister CM of J&K State on 6th of June, 2008 in presence of Thakur Gulchian Singh Charak, Hon'bie Minister for Higher Education, Sh. Ajaz Ahmad Khan, M.O.S. for Higher Education and many other Higher dignitaries of the State. The college affiliated to the University of Jammu, Jammu. At present the college provides instruction in the discipline of Arts only. The college has no building of its own, the College is running in the premises of ITI, Dharmari.

About 167 Kanals of Land has been purchased by Department and the construction work will start very soon at Dharmari, Distt. Reasi, in the foot hills of Shivaliks at a distance of 50 Kms from Reasi Town. It is the most ideal place for an educational institution free from the ding dong of the town life. The acquired land is sufficient for its expansion. The college campt 3 present a picturesque view in the back drop of snow capped Peer-Panchal hills.

Reasi sub division happens to be a hilly belt and the Govt. Degree College Dharmari caters to the needs of the students belonging to the most neglected and backward pockets of the state. Students come from Mahore, Arans, Gool, Gulab Garh, Matlote, Pattain, Thillu, Thuru and many other adjoining villages. The Govt. Degree College has proved very useful to the students belonging to the socially and economically backward classes from the far flung areas of the Reasi district.

The College has a young and dedicated teaching faculty that leave no stone unturned to impart the education to the best of their abilities. Cultural programmes, debates, seminars, GK test and on the spot essay writing competition will be organised for the better intellectual nourishment of the students in the coming session.